Allowing tour companies to effectively manage their guides all on one app
2 min read
Jun 29, 2023 11:25:16 AM
iZZi Guide
Designing and developing a mobile application helping tour companies to manage and allocate their guides along with access to thousands of licensed tour guides
| | | |
| --- | --- | --- |
| Industry: | Platforms: | Model: |
| Travel | | |
iZZi Guide helps tour companies manage and allocate their guides in a more efficient way.
iZZi Guide helps tour companies manage and allocate their guides in a more efficient way. The tour guide talent pool offers access to thousands of registered and licensed tour guides.
The challenge
Travel companies struggle with having reliable sources of local tour guides and maintaining their talent pools. Effectively matching guides to correct tours, coordinating details and taking change requests is an everyday paint point for organizers.
The challenge was finding a way to get licensed guide profiles saved into system, building a system that could match tour jobs with multiple guides and help the guides reply to jobs in an efficient way.
The solution
We ran a discovery project starting with task analysis workshops to identify all the possible users of the platform, their current tasks and our matching solutions.
We progressed quickly into low fidelity wire-framing stages to define screens needed based on mapped user flows.
We tested and looped back for iterations of the information architecture and updated the wire-frames and prototypes accordingly.

Application prototyping
The solution resulted in us prototyping an interactive online booking system for agencies to create tour bookings and select preferred guides.
The booking system allows agencies to capture and publish specific requirements about their tour packages, enabling guides to reply to jobs with more context and relevance.
A guide application was prototyped to demonstrate how guides in the talent pool would register, become verified, and respond to advertised jobs. They can quickly accept and reject jobs, or be timed out giving other guides a chance to reply.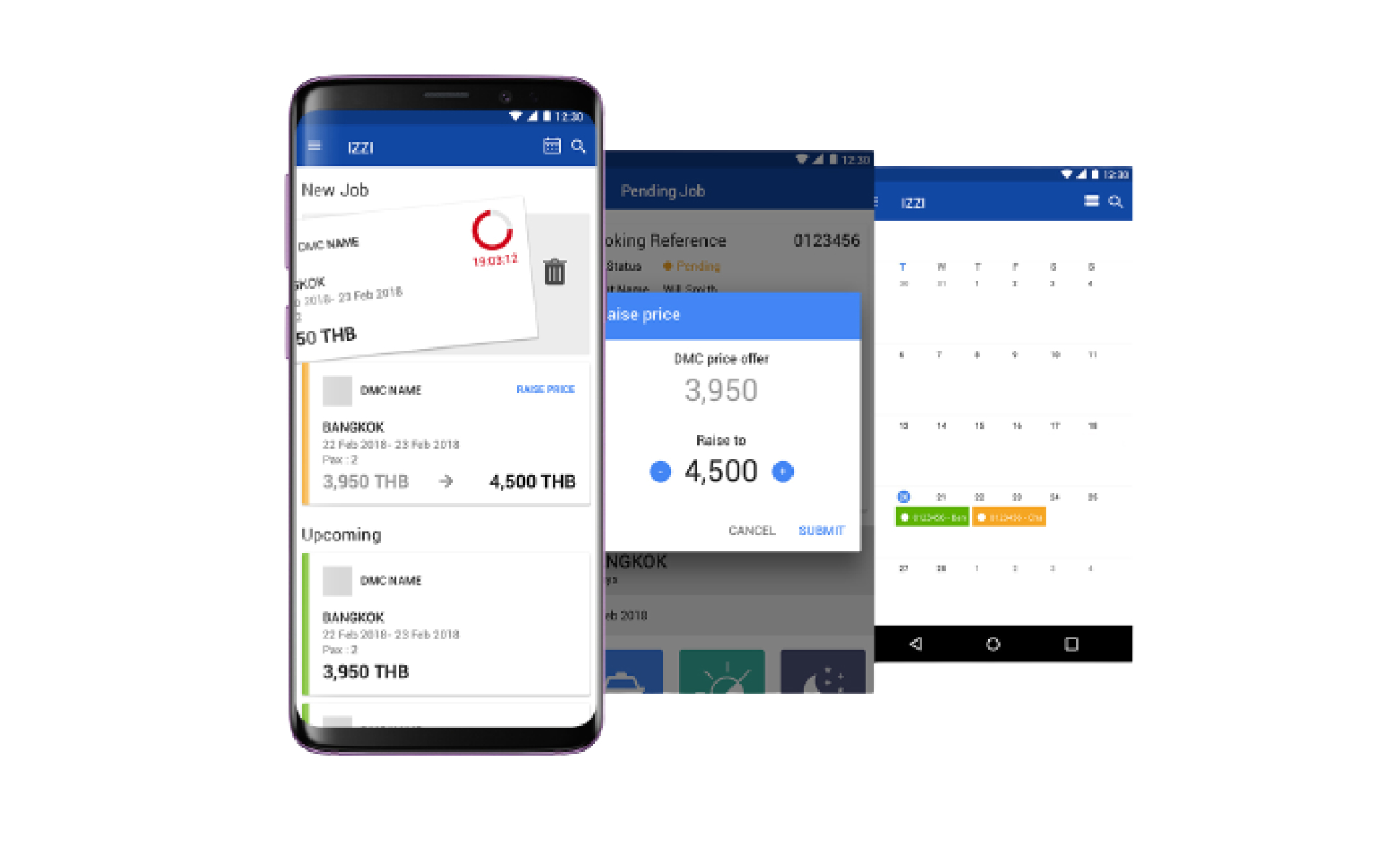 Final hand-off
We handed over UX documentation, wire-frames and interactive prototypes that enabled IZZI to present their product and start making plans for development.
This is a fairly short project that we now offer as a 'Kick started discovery', helping clients turn ideas into build-able services.
About iZZi Guide

iZZi guide is an easy-to-use booking tool that connects hotels with licensed tour guides through offering a personalized service by matching the right guides with the right guests.
Industry: Travel
Project: Mobile application
Client: iZZi Guide
Working model: Discovery project